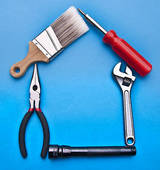 If you are in the market to sell your home soon you may want to consider these few home improvements that could help boost the value of your Crow Wing County home.
Front Door: Curb appeal goes a long way when it comes to selling your home. Install a high quality attractive door which will instantly add some curb appeal to your home when potential buyers visit. A new door will also help lower your homes energy costs.
Decks: One of the least-expensive ways to extend your home's living space is to install a deck. If your budget allows choose materials made out of composite, as it a great low-maintenance option. If this is not in your budge opting for pressure-treated wood will also bring a return investment on average of 80 percent at the time when your homes sells.
Kitchen: The kitchen in any home is a major selling point and appearance and lay-out many times can mean a deal breaker for many buyers. You can improve your kitchen without it having to be a huge investment. Simply replacing your kitchen's countertops, cabinet hardware, and appliances can make a huge impact.
Bathrooms: After kitchens, bathrooms tend to quickly show their age. Similar to the kitchen a few easy fixes can quickly bring your bathroom up to date. Install new fixtures and new hardware.
Windows: If the windows in your home are not energy efficient consider replacing them. Replacement windows are a great pre-sale home improvement. As the home owner you can earn energy tax credits and the new buyer will benefit from lower home energy bills.
If you are looking to buy or sell a home in Crow Wing County this fall, contact me, Bill Grunewald. My team and I enjoy helping folks like you find just the right spot to live your northern Minnesota Lake Country dream.